Peace Hub Chicago's Resource Database
by: David John Coleman II, LCSW, CADC
developer at ChicagoResourceHub.com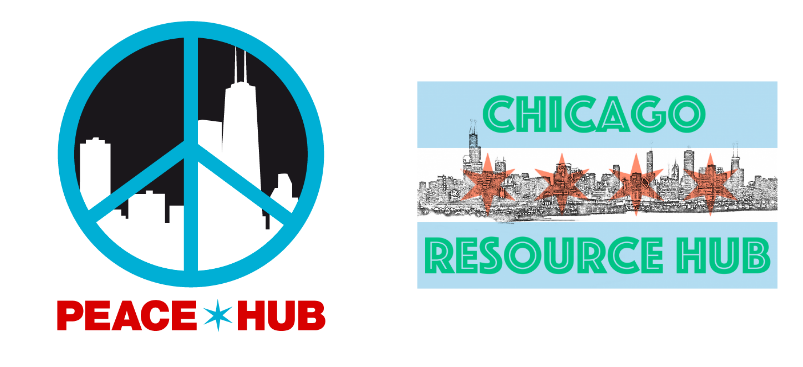 The Chicago Peace Hub, established in 2010, is a violence prevention initiative composed of many of Chicago's Leading Social Service Agencies, whose goals are to increase engagement in support programs and services of Chicago's youth ages 12-24 years old, enhance communication and partnership among local service providers, and to leverage underutilized services.  Norman Livingston Kerr, MA from University of Chicago and Vice President for Violence Prevention at UCAN is the Director of Peace Hub Chicago.  Mr. Kerr explains that the Peace Hub will create a coordinated network infrastructure through systems integration of local resources, which allows service providers to access, share and weave resources together to address each youth's individual needs and circumstances.  Research indicates that it is critical to intervene with youth at between ages 12-24 years old because the potential to improve and positively influence maladaptive behaviors such as: inappropriate, delinquent, violent, aggressive and/or other anti-social behaviors is far likelier than it would be later in life.  Our hope is to influence youth before and provide an alternative way of living so that they do not need to enter into and/or die in the criminal justice system, gang structures, and/or other unhealthy addictions/ influences.
In May of 2016, while keeping with Peace Hub's goals, and with the practical experiences of Peace Hub's network in struggling to be fully aware of Chicago's Resources and connecting you to them, Peace Hub Chicago established an extensive database and tool with 5000+ organizations listed called: The Chicago Resource Hub (ChicagoResourceHub.com).  We launched this database at our Annual Youth Impact Conference at Gary Comer Youth Center, and received wonderful feedback from our network organizations.  Chicago Resource Hub is…
A comprehensive, unrestricted database for guiding you to find the best fit human services and other social services organizations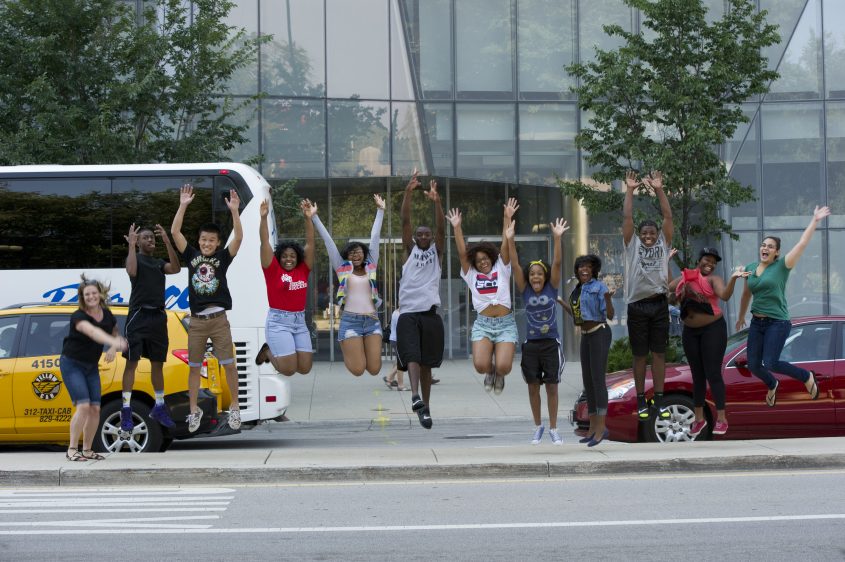 ChicagoResourceHub.com is a Social Service Resource Mega Database to search amongst others: Community Agencies, Non-profits, Health Care, Mental Health Centers, and other Supportive Networks, Resources, Services, and Referrals.  The Database allows for Searching the following Services: Various or Large Organizations, Advocacy/ Activism, After School Programs, Art Programs, Emergency Support, Case Management (Referrals), Community Support, Computer, Internet, and Tech Services, Condom Distribution, Counseling, Criminal Justice System Support, DCFS Partner Agencies, Department of Human Services (DHS) Centers, Disability Support Agencies, Domestic Violence, Early Childhood Education, Employment / Job Help, Family Planning Guidance, Federally Qualified Health Care (FQHC) Centers, Sports, Recreation, and Fitness Centers, Food Groceries Pantries, Gang interventions (anti-violence), GED programs, Health Care, HIV/ AIDS, Home Visits, Legal Support, Mentoring, Mental Health Treatment, Shelter or Housing, Substance Abuse Support, Summer Programs, Support Groups, Taxes, Thrift Shopss, Tutoring, Urban Farms, and Wildlife/ Nature/ Environmental Service Opportunities.  The Database is designed for:
Personal and Professional Use with no-restrictions, no registration, and a completely Free Search Tool
The database also provides options to search for services based upon unique populations of diverse communities such as: Asian, Criminal Justice System Involved (X-felons), DCFS involved/ Wards/ Foster Care, Disability: Serves those w/ Disabilities, Gang Involved/ Affiliated, Homeless, Immigrant or Refugee, LGBTQ+ Support, Parents, Pregnant Women, Substance Abuse Population, Senior/ Elderly, Spanish Speaking, Veterans, Women Specific, and Youth or Child Specific.  Users may also search for all services by the street intersection or neighborhood in Chicago and the Chicago Land area including North, West, and South Suburbs.  These Searching terms and capabilities are especially useful as the Database includes over:
5000+ Support Organizations Listed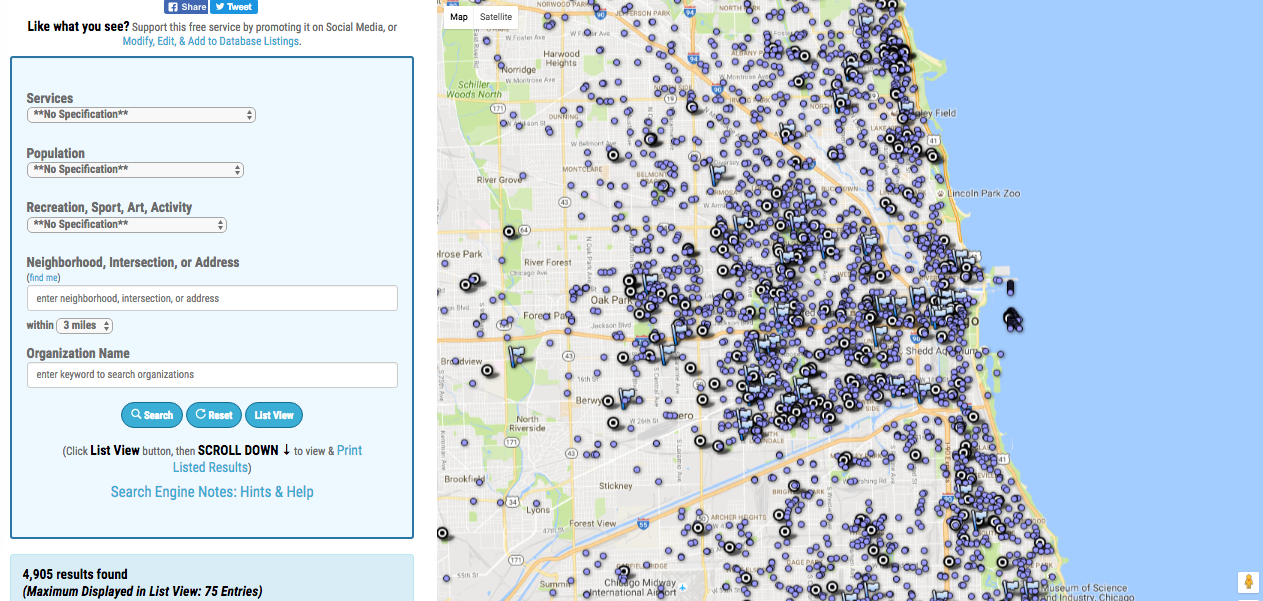 Chicago Resource Hub is continually updated with the option for anyone in the public to submit changes, updates, editions, or other modifications to the database and website.  The tools are especially adapted to service providers looking to improve their ability to provide referrals to other organizations in Chicago or even to learn about their own agency's services.  If you work with organizations that serve people in a social service capacity, you are probably all too familiar with referral and resource documents- they are difficult to share with colleagues, tiresome to access, tedious to organize, and too complicated when trying to share, transfer, or give/explain to clients, students, participants, or patients. Usually an organization does not keep a large guide/ database, but instead each individual worker is expected to create their own referral guide, which adds to the disorganization, and problems with access.
With Peace Hub's Social Service Database, you don't have to deal with any of those problems, so long as you have an internet connection, and there you have access to the unrestricted guide to free and low-cost services in Chicago. The database includes phone numbers, addresses, websites, services offered, and other informational details that can be easily printed out to provide to clients or to keep for yourself.  By offering ChicagoResourceHub.com service free to the public and all Community Organization in Chicago, our hope is that Chicago's youth and professional staff that support youth including teachers, case-workers, counselors, development workers, coaches, mentors, tutors, administrators, peer-leaders, government officials, law officers, and even you would better utilize the depth of amazing support in Chicago.  We hope that this tool will add to and promote the Peace Movement in Chicago, creating more educated, healed, empowered, and emotionally strong young leaders for all of our communities.