125 Thrift Shops in Chicago Land
New (for you!) clothes, furniture, school supplies, and much more!
Locations for common stores in Chicago Land such as: The Salvation Army, Unique / Savers Thrift Store, Crossroads Trading Co., Belmont Army Surplus, Vintage Underground, Goodwill, Village Discount, Buffalo Exchange, Knee Deep Vintage, The Brown Elephant, and more!
video credit: MACKLEMORE & RYAN LEWIS - THRIFT SHOP FEAT. WANZ (OFFICIAL VIDEO) (YouTube)
View Vintage & Thrift Shops/ Thrift Stores on Map (here)
(search services: "thrift shop") or in a List (below)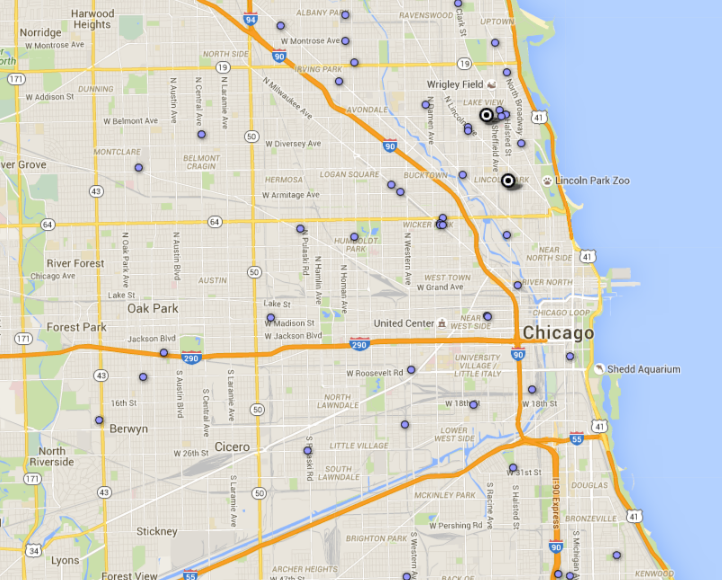 Thrift Shop Name
Description
Phone Number, Address, Website, Directions
Belmont Army Surplus Chicago
Established 1975 - This 4-level store is bound to give any shopper a whirlwind of emotions. Each level of the building has a different theme. In the basement, there is a shoe shop and skateboard shop. The first two levels are considered more "trendy" and definitely more expensive, the first level is directed towards men while the second is directed towards women. The third level is what the name says it is, army surplus. There are a lot of cool finds on this floor, including $10 flags. The fourth floor is vintage/thrift, where you will find sections dedicated to vintage cheerleading outfits, western cowboy/girl items, and ugly sweaters.
773-549-1038
855 W Belmont Ave, Chicago, IL 60657
https://belmontarmy.wordpress.com/
Google Maps Directions
Bright Star Community Outreach Corporation
Bright Star community Outreach: Mission: Our mission is to empower residents to share in the responsibility of building community through pooling resources and forming partnerships. We will accomplish our mission by developing innovative performance-based projects and programs to address issues of Community Engagement, Economic Development, Education, Children/Youth and Family. Our Vision: We envision today's underserved communities becoming self-sufficient livable communities for individuals, families and organizations. Communities strong and nurturing in positive thought and behavior in the home, community and marketplace.
312-235-8000
735 E. 44Th St, Chicago, IL 60653
http://www.brightstarcommunityoutreach.com/
Google Maps Directions
Buffalo Exchange
Located in the wonderful neighborhood of Wicker Park, Buffalo Exchange is definetly one of the more up to date thrift stores. They carry things that are currently trending in fashion and are in great shape. Prices can vary depending on the item but there are so many options, there is a deal awaiting you in the racks.
773-227-9558
1478 N Milwaukee Ave, Chicago, IL 60622
http://www.buffaloexchange.com/
Google Maps Directions
Care For Real
Greater Chicago Food Depository
773-769-6182
5341 N. Sheridan Rd, Chicago, IL 60640
http://www.careforreal.org
Google Maps Directions
Casa Central
La Posada Interim Housing for Homeless Families
773-782-8820
3209 W. Evergreen, Chicago, IL 60651
http://www.casacentral.org/
Google Maps Directions
Child Link Inc.
Child Link
312-377-4735
955 W. Cermak Rd, 2nd floor, Chicago, IL 60608
http://childlnk.org/
Google Maps Directions
Crossroads Trading Co. - Andersonville
One of four Crossroads stores in the Chicago area, this store is located in the heart of the Andersonville neighborhood. Our friendly and outgoing team of fashion experts offers customers the best selection of new and used designer clothes. Whether looking for a pair of jeans or high-end designer apparel, shoppers are certain to find what they're looking for.
872-203-9297
5127 N Clark St, Chicago, IL 60640
http://crossroadstrading.com/
Google Maps Directions
Crossroads Trading Co. - Lincoln Park
One of four Crossroads stores in the Chicago area, this store is located in the heart of Lincoln Park. The outgoing store team aims to provide the best selection of amazing clothes for their loyal customers, whether they're looking for a simple pair of jeans or a designer handbag.
773-296-1000
2711 N Clark St, Chicago, IL 60614
http://crossroadstrading.com/
Google Maps Directions
Crossroads Trading Co. - Wicker Park
This Crossroads store is located in the heart of Wicker Park, well known as one of Chicago's hippest neighborhoods and filled with music venues, record shops, diverse eateries and great shopping options. Stop by and see all that Wicker Park has to offer.
773-227-5300
1519 N Milwaukee Ave, Chicago, IL 60622
http://crossroadstrading.com/
Google Maps Directions
Crossroads Trading Co. Evanston
One of four stores in the Chicago area, Crossroads Trading in Evanston is located near Northwestern University and offers an excellent selection of new and used clothes, shoes and accessories. Metered spots and garage parking are conveniently available nearby, and the store is also located near the Metra train system and the purple line Davis stop on the El.
847-492-9400
1730 Sherman Ave, Evanston, IL 60201
http://crossroadstrading.com/
Google Maps Directions
Family Thrift Store - Cermak
Family Thrift Store SAVES YOU MONEY on thousands of fantastic selections of used, brand name and designer clothing and shoes for the entire family. We also carry blankets, toys, books, knick-knacks and other housewares. Shopping is made easy with wide basket isles, big parking lots and great discounts.
773-847-4420
2527 W. Cermak Rd., Chicago, IL 60608
http://familythriftstore.com/
Google Maps Directions
Family Thrift Store - Milwaukee
Family Thrift Store SAVES YOU MONEY on thousands of fantastic selections of used, brand name and designer clothing and shoes for the entire family. We also carry blankets, toys, books, knick-knacks and other housewares. Shopping is made easy with wide basket isles, big parking lots and great discounts.
773-394-1115
2160 N Milwaukee Ave, Chicago, IL 60647
http://familythriftstore.com/
Google Maps Directions
Family Thrift Store - Pulaski
Family Thrift Store SAVES YOU MONEY on thousands of fantastic selections of used, brand name and designer clothing and shoes for the entire family. We also carry blankets, toys, books, knick-knacks and other housewares. Shopping is made easy with wide basket isles, big parking lots and great discounts.
773-585-2700
7000 S. Pulaski Rd., Chicago, IL 60629
http://familythriftstore.com/
Google Maps Directions
Firman Community Services: Illinois Department of Human Services (DHS) - 144 47th
-The Mission Of Firman Community Services Is To Maintain A Neighborhood Based Human Services Agency That Seeks To Improve The Education, Economic, Social, Moral And Spiritual Quality Of Life For People Of The Communities Served.-
773-373-3400
144 W. 47th St, Chicago, IL 60609
http://www.firmancs.org/
Google Maps Directions
Firman Community Services: Illinois Department of Human Services (DHS) - 47th
-The Mission Of Firman Community Services Is To Maintain A Neighborhood Based Human Services Agency That Seeks To Improve The Education, Economic, Social, Moral And Spiritual Quality Of Life For People Of The Communities Served.-
773 373 3400
37 W. 47th St., Section B, Chicago, Illinois 60609
http://www.firmancs.org/
Google Maps Directions
Firman Community Services: Illinois Department of Human Services (DHS) - Rohlwing
-The Mission Of Firman Community Services Is To Maintain A Neighborhood Based Human Services Agency That Seeks To Improve The Education, Economic, Social, Moral And Spiritual Quality Of Life For People Of The Communities Served.-
773 373 3400
1855 Rohlwing Road Suite A, Rolling Meadows, Illinois 60008
http://www.firmancs.org/
Google Maps Directions
Firman Community Services: Illinois Department of Human Services (DHS) - State
-The Mission Of Firman Community Services Is To Maintain A Neighborhood Based Human Services Agency That Seeks To Improve The Education, Economic, Social, Moral And Spiritual Quality Of Life For People Of The Communities Served.-
773 373 3400
4705 S. State St., Chicago, Illinois 60609
http://www.firmancs.org/
Google Maps Directions
Goodwill Industries Job Training Center
Goodwill provides training employment & supportive services for people w/ disabilities or disadvantages who seek greater independence. This site is open to the public. Phone fax & net services are available. Walk ins welcome.
312-212-1290
819 S. Wabash Chicago, IL 60605
http://www.Goodwillchicago.com
Google Maps Directions
Goodwill Industries Job Training Center
Goodwill provides training employment & supportive services for people w/ disabilities or disadvantages who seek greater independence. This site is open to the public. Phone fax & net services are available. Walk ins welcome.
312-212-1290
2435 W. 63rd Street Chicago, IL 60629
http://www.goodwillchicago.com/
Google Maps Directions
Goodwill Industries Job Training Center
Goodwill provides training employment & supportive services for people w/ disabilities or disadvantages who seek greater independence. This site is open to the public. Phone fax & net services are available. Walk ins welcome.
773-627-5770
6054 S. Western Chicago, IL 60636
http://www.goodwillchicago.com/
Google Maps Directions
Goodwill Industries Metro Chicago
Goodwill Industries of Met Chicago Inc.
773-627-5765
30 N. Racine Ave, Chicago, IL 60607
http://www.goodwillchicago.com/
Google Maps Directions
Goodwill Industries of Metropolitan Chicago
Mission: Goodwill provides training, employment and supportive services for people with disabilities or disadvantages who seek greater independence.
630-812-5167
1020 N Rohlwing Rd, Addison, IL 60101
http://www.goodwillchicago.com/
Google Maps Directions
Goodwill Industries of Metropolitan Chicago
Mission: Goodwill provides training, employment and supportive services for people with disabilities or disadvantages who seek greater independence.
847-670-7311
1551 N Dryden Ave, Arlington Heights, IL 60004
http://www.goodwillchicago.com/
Google Maps Directions
Goodwill Industries of Metropolitan Chicago
Mission: Goodwill provides training, employment and supportive services for people with disabilities or disadvantages who seek greater independence.
847-870-7897
900 W Algonquin Rd, Arlington Heights, IL 60005
http://www.goodwillchicago.com/
Google Maps Directions
Goodwill Industries of Metropolitan Chicago
Mission: Goodwill provides training, employment and supportive services for people with disabilities or disadvantages who seek greater independence.
630-631-5818
1543 Mesa Ln, Aurora, IL 60502
http://www.goodwillchicago.com/
Google Maps Directions
Goodwill Industries of Metropolitan Chicago
Mission: Goodwill provides training, employment and supportive services for people with disabilities or disadvantages who seek greater independence.
630-837-1410
1420 IL-59, Bartlett, IL 60103
http://www.goodwillchicago.com/
Google Maps Directions
Goodwill Industries of Metropolitan Chicago
Mission: Goodwill provides training, employment and supportive services for people with disabilities or disadvantages who seek greater independence.
630-761-8049
450 N Randall Rd, Batavia, IL 60510
http://www.goodwillchicago.com/
Google Maps Directions
Goodwill Industries of Metropolitan Chicago
Mission: Goodwill provides training, employment and supportive services for people with disabilities or disadvantages who seek greater independence.
630-523-5341
420 W Army Trail Rd, Bloomingdale, IL 60108
http://www.goodwillchicago.com/
Google Maps Directions
Goodwill Industries of Metropolitan Chicago
Mission: Goodwill provides training, employment and supportive services for people with disabilities or disadvantages who seek greater independence.
630-771-0474
123 S Weber Rd, Bolingbrook, IL 60490
http://www.goodwillchicago.com/
Google Maps Directions
Goodwill Industries of Metropolitan Chicago
Mission: Goodwill provides training, employment and supportive services for people with disabilities or disadvantages who seek greater independence.
630-682-2563
520 S Schmale Rd, Carol Stream, IL 60188
http://www.goodwillchicago.com/
Google Maps Directions
Goodwill Industries of Metropolitan Chicago
Mission: Goodwill provides training, employment and supportive services for people with disabilities or disadvantages who seek greater independence.
847-426-2448
7777 Miller Rd, Carpentersville, IL 60110
http://www.goodwillchicago.com/
Google Maps Directions
Goodwill Industries of Metropolitan Chicago
Mission: Goodwill provides training, employment and supportive services for people with disabilities or disadvantages who seek greater independence.
312-563-1187
1201 W Washington Blvd, Chicago, IL 60607
http://www.goodwillchicago.com/
Google Maps Directions
Goodwill Industries of Metropolitan Chicago
Mission: Goodwill provides training, employment and supportive services for people with disabilities or disadvantages who seek greater independence.
847-699-7019
1521 Lee St, Des Plaines, IL 60018
http://www.goodwillchicago.com/
Google Maps Directions
Goodwill Industries of Metropolitan Chicago
Mission: Goodwill provides training, employment and supportive services for people with disabilities or disadvantages who seek greater independence.
630-964-1343
110 Ogden Ave, Downers Grove, IL 60515
http://www.goodwillchicago.com/
Google Maps Directions
Goodwill Industries of Metropolitan Chicago
Mission: Goodwill provides training, employment and supportive services for people with disabilities or disadvantages who seek greater independence.
630-516-0319
675 W North Ave, Elmhurst, IL 60126
http://www.goodwillchicago.com/
Google Maps Directions
Goodwill Industries of Metropolitan Chicago
Mission: Goodwill provides training, employment and supportive services for people with disabilities or disadvantages who seek greater independence.
815-464-4207
19917 South La Grange Road, Frankfort, IL 60423
http://www.goodwillchicago.com/
Google Maps Directions
Goodwill Industries of Metropolitan Chicago
Mission: Goodwill provides training, employment and supportive services for people with disabilities or disadvantages who seek greater independence.
630-790-1654
543 E N Ave, Carol Stream, IL 60188
http://www.goodwillchicago.com/
Google Maps Directions
Goodwill Industries of Metropolitan Chicago
Mission: Goodwill provides training, employment and supportive services for people with disabilities or disadvantages who seek greater independence.
847-519-3546
2535 W Golf Rd, Hoffman Estates, IL 60169
http://www.goodwillchicago.com/
Google Maps Directions
Goodwill Industries of Metropolitan Chicago
Mission: Goodwill provides training, employment and supportive services for people with disabilities or disadvantages who seek greater independence.
815-609-9740
3084 Hennepin Dr, Joliet, IL 60431
http://www.goodwillchicago.com/
Google Maps Directions
Goodwill Industries of Metropolitan Chicago
Mission: Goodwill provides training, employment and supportive services for people with disabilities or disadvantages who seek greater independence.
847-550-0769
746 S Rand Rd, Lake Zurich, IL 60047
http://www.goodwillchicago.com/
Google Maps Directions
Goodwill Industries of Metropolitan Chicago
Mission: Goodwill provides training, employment and supportive services for people with disabilities or disadvantages who seek greater independence.
630-257-5608
1146 State St, Lemont, IL 60439
http://www.goodwillchicago.com/
Google Maps Directions
Goodwill Industries of Metropolitan Chicago
Mission: Goodwill provides training, employment and supportive services for people with disabilities or disadvantages who seek greater independence.
630-576-4650
351 E Roosevelt Rd, Wheaton, IL 60187
http://www.goodwillchicago.com/
Google Maps Directions
Goodwill Industries of Metropolitan Chicago
Mission: Goodwill provides training, employment and supportive services for people with disabilities or disadvantages who seek greater independence.
630-499-8950
1901 Hill Ave, Montgomery, IL 60538
http://www.goodwillchicago.com/
Google Maps Directions
Goodwill Industries of Metropolitan Chicago
Mission: Goodwill provides training, employment and supportive services for people with disabilities or disadvantages who seek greater independence.
847-566-0636
761 S Midlothian Rd, Mundelein, IL 60060
http://www.goodwillchicago.com/
Google Maps Directions
Goodwill Industries of Metropolitan Chicago
Mission: Goodwill provides training, employment and supportive services for people with disabilities or disadvantages who seek greater independence.
630-357-6258
539 Fort Hill Dr, Naperville, IL 60540
http://www.goodwillchicago.com/
Google Maps Directions
Goodwill Industries of Metropolitan Chicago
Mission: Goodwill provides training, employment and supportive services for people with disabilities or disadvantages who seek greater independence.
815-463-8832
441 E Lincoln Hwy, New Lenox, IL 60451
http://www.goodwillchicago.com/
Google Maps Directions
Goodwill Industries of Metropolitan Chicago
Mission: Goodwill provides training, employment and supportive services for people with disabilities or disadvantages who seek greater independence.
708-442-3606
1900 Harlem Ave, North Riverside, IL 60546
http://www.goodwillchicago.com/
Google Maps Directions
Goodwill Industries of Metropolitan Chicago
Mission: Goodwill provides training, employment and supportive services for people with disabilities or disadvantages who seek greater independence.
847-291-4194
4131 E Dundee Rd, Northbrook, IL 60062
http://www.goodwillchicago.com/
Google Maps Directions
Goodwill Industries of Metropolitan Chicago
Mission: Goodwill provides training, employment and supportive services for people with disabilities or disadvantages who seek greater independence.
708-429-9030
7400 W 159th St, Orland Park, IL 60462
http://www.goodwillchicago.com/
Google Maps Directions
Goodwill Industries of Metropolitan Chicago
Mission: Goodwill provides training, employment and supportive services for people with disabilities or disadvantages who seek greater independence.
847-241-2990
1381 N Rand Rd, Palatine, IL 60074
http://www.goodwillchicago.com/
Google Maps Directions
Goodwill Industries of Metropolitan Chicago
Mission: Goodwill provides training, employment and supportive services for people with disabilities or disadvantages who seek greater independence.
815-254-2661
13665 IL-59, Plainfield, IL 60544
http://www.goodwillchicago.com/
Google Maps Directions
Goodwill Industries of Metropolitan Chicago
Mission: Goodwill provides training, employment and supportive services for people with disabilities or disadvantages who seek greater independence.
815-254-1353
1360 West Airport Road, Romeoville, IL 60446
http://www.goodwillchicago.com/
Google Maps Directions
Goodwill Industries of Metropolitan Chicago
Mission: Goodwill provides training, employment and supportive services for people with disabilities or disadvantages who seek greater independence.
847-543-1082
2051 IL-83, Grayslake, IL 60030
http://www.goodwillchicago.com/
Google Maps Directions
Goodwill Industries of Metropolitan Chicago
Mission: Goodwill provides training, employment and supportive services for people with disabilities or disadvantages who seek greater independence.
847-741-0236
260 Randall Rd, Elgin, IL 60123
http://www.goodwillchicago.com/
Google Maps Directions
Goodwill Industries of Metropolitan Chicago
Mission: Goodwill provides training, employment and supportive services for people with disabilities or disadvantages who seek greater independence.
630-513-5681
2750 E Main St, St Charles, IL 60174
http://www.goodwillchicago.com/
Google Maps Directions
Goodwill Industries of Metropolitan Chicago
Mission: Goodwill provides training, employment and supportive services for people with disabilities or disadvantages who seek greater independence.
708-562-6166
3054 S Wolf Rd, Westchester, IL 60154
http://www.goodwillchicago.com/
Google Maps Directions
Goodwill Industries of Metropolitan Chicago
Mission: Goodwill provides training, employment and supportive services for people with disabilities or disadvantages who seek greater independence.
630-323-9186
6300 Kingery Hwy, Willowbrook, IL 60527
http://www.goodwillchicago.com/
Google Maps Directions
Goodwill Industries of Metropolitan Chicago
Mission: Goodwill provides training, employment and supportive services for people with disabilities or disadvantages who seek greater independence.
630-910-0387
8615 Woodward Ave, Woodridge, IL 60517
http://www.goodwillchicago.com/
Google Maps Directions
Goodwill Industries of Metropolitan Chicago
Mission: Goodwill provides training, employment and supportive services for people with disabilities or disadvantages who seek greater independence.
630-553-6969
481 E Countryside Pkwy, Yorkville, IL 60560
http://www.goodwillchicago.com/
Google Maps Directions
Greater Auburn Gresham Development Corporation
The Auburn Gresham Portal is part of the Southwest Smart Communities Initiative a collaboration among Auburn Gresham Chicago Lawn & Englewood. Part of the Business Resource Network this site provides access to tech resources. After School Matters: MAPSCorps is envisioned as a national model for partnerships between university scientists & others
773-483-3696
1159 W. 79th Street Chicago, IL 60620
http://www.auburngreshamportal.org
Google Maps Directions
Holsten Real Estate Development Corporation
Human Capital Development
312-337-5339
1333 N. Kingsbury, Chicago, IL 60642
https://www.google.com/search?q=Holsten+Real+Estate+Development+Corporation+Chicago+IL
Google Maps Directions
Knee Deep Vintage
A Pilsen staple when visiting the neighborhood. When they put vintage in the name, they werenÕt kidding. Stepping in here might make you feel like youÕve entered a time machine. ItÕs quirky and fun to shop around in.
312-850-2510
1425 W 18th St, Chicago, IL 60608
http://www.kneedeepvintage.com/
Google Maps Directions
Lakeview Pantry
Greater Chicago Food Depository - WE HAVE 1 GOAL, 1 Mission: TO FIGHT HUNGER, 1 DOLLAR, 1 MEAL, 1 PERSON AT A TIME, UNTIL THE DAY, NO 1 GOES HUNGRY - We are here to help in a number of ways. From assisting individuals and families, to developing innovative programs that strive to end hunger in our community, we at the Greater Chicago Food Depository are committed to serve as your resource in the fight against hunger.
773-525-1777
3831 N. Broadway St, Chicago, IL 60613
http://www.chicagosfoodbank.org
Google Maps Directions
Lakeview Pantry - West
Food Distribution
773-404-6333
1414 W. Oakdale, Chicago, IL 60657
https://www.google.com/search?q=Lakeview+Pantry+-+West+Chicago+IL
Google Maps Directions
Metropolitan Family Services - Treasure House Resale Shop
Metropolitan Family Services empowers families to learn, to earn, to heal, to thrive. Part mentor, part motivator, part advocate, since 1857 Metropolitan Family Services has been the engine of change that empowers Chicago-area families to reach their greatest potential and positively impact their communities. Metropolitan Family Services has more than 890 full- and part-time professional staff dedicated to providing quality services to families throughout Chicago, DuPage County, Evanston/ Skokie and the southwest suburbs. Metropolitan serves more than 68,000 families and individuals as diverse as the communities in which they live, with 81% being part of the working poor or lower-middle class.
630-469-6907
497 Pennsylvania Ave., Glen Ellyn, Illinois 60137
https://metrofamily.org/
Google Maps Directions
Pacific Garden Mission (PGM)
Pacific Garden Mission is the oldest, continuously-operating, Gospel rescue mission in the country. Our mission is to share the Gospel and provide a nutritive environment spiritually.
312-492-9410
1458 S. Canal St., Chicago, IL 60607
http://www.pgm.org/
Google Maps Directions
Ragstock - Lakeview
Ragstock is a one-of-a-kind store. It has two locations in the city, in two of my favorite neighborhoods. The first level of the store is a regular retail store, the basement contains the vintage portion. In the basement, you will never find any items like it. Ragstock is such a fun store to go browsing around in for completely uncommon and unimaginable pieces of clothing.
1-800-799-0134
812 W Belmont Ave, Chicago, IL 60657
http://ragstock.com/
Google Maps Directions
Ragstock - Wicker Park
Ragstock is a one-of-a-kind store. It has two locations in the city, in two of my favorite neighborhoods. The first level of the store is a regular retail store, the basement contains the vintage portion. In the basement, you will never find any items like it. Ragstock is such a fun store to go browsing around in for completely uncommon and unimaginable pieces of clothing.
1-800-799-0134
1459 N Milwaukee Ave, Chicago, IL 60622
http://ragstock.com/
Google Maps Directions
St. Vincent de Paul Center
Services Include Fam support services parent groups art therapy & speech therapy. Tutoring Chicago to offer on-site tutoring services for eligible school age children. Ages: 0-13. Accepts IL Child Care Assistance Prog (CCAP)
312-943-6776
2145 N. Halsted St., Chicago, IL 60614
http://www.svdpc.org
Google Maps Directions
Target Area Development Corporation
Community Support Advisory Council (CSAC-South)
773-651-6470
1542 W. 79th St, Chicago,, IL 60620
https://www.google.com/search?q=Target+Area+Development+Corporation
Google Maps Directions
The Allison United Foundation for Better Living (AUFBL) - After School Matters: Beyond Rhyme & Rhythm Audio/Video Arts Program
Adult Literacy/G.E.D., B.U.I.L.D. Youth Mentorship, C.E.D.A. Program, Community Clothes Closet, Job Training/Placement
4540 W. Washington Blvd, Chicago, Il 60624
http://www.afterschoolmatters.org/
Google Maps Directions
The Brown Elephant - Andersonville
This thrift store has multiple locations throughout the city. Shopping here goes to a good cause. Proceeds go to Howard Brown Health, an organization that helps the LGBT community with healthcare. There are many treasures to be found in The Brown Elephant and with your purchase, you are helping someone with their health.
773-271-9382
5404 N Clark St, Chicago, IL 60640
http://howardbrown.org/brown-elephant/
Google Maps Directions
The Brown Elephant - Lakeview
This thrift store has multiple locations throughout the city. Shopping here goes to a good cause. Proceeds go to Howard Brown Health, an organization that helps the LGBT community with healthcare. There are many treasures to be found in The Brown Elephant and with your purchase, you are helping someone with their health.
773-549-5943
3020 N Lincoln Ave, Chicago, IL 60657
http://howardbrown.org/brown-elephant/
Google Maps Directions
The Brown Elephant - Oak Park
This thrift store has multiple locations throughout the city. Shopping here goes to a good cause. Proceeds go to Howard Brown Health, an organization that helps the LGBT community with healthcare. There are many treasures to be found in The Brown Elephant and with your purchase, you are helping someone with their health.
708-445-0612
217 Harrison St, Oak Park, IL 60304
http://howardbrown.org/brown-elephant/
Google Maps Directions
The Night Ministry
Youth Outreach Team, Serves youth & adults who face multiple complex challenges on a daily basis, including homelessness, poverty, abuse, loneliness & neglect. West Town, and Lakeview Locations
773-506-4100, 773-784-9000, 773-784-9000, 773-506-4103, 773-506-3123
3262 N. Clark St, Chicago, IL 60657
http://www.thenightministry.org/
Google Maps Directions
The Salvation Army - 63rd St., Chicago, IL
Family Store & Donation Center - About The Salvation Army: "Doing The Most Good." In these four words, our mission - to feed, to clothe, to comfort, to care. To rebuild broken homes and broken lives. By walking with the addicted, we can lead them to recovery. In fighting hunger and poverty, we can feed and nurture the spirit. And, in living and sharing the Christian Gospel by meeting tangible needs, we give the world a lasting display of the love behind our beliefs. The Salvation Army operates 7,546 centers in communities across the United States. These include food distribution, disaster relief, rehabilitation centers, anti-human trafficking efforts, and a wealth of children's programs. Our work is funded through kettle donations, corporate contributions, and the sale of goods donated to our Salvation Army Family Stores. Eighty-two cents of every dollar we spend supports our various missions across the country. We are a tax-exempt 501(c)(3) organization, and contributions are deductible for Federal Income Tax Purposes to the extent permitted under Section 170(b)(2) for corporations. Our mission: The Salvation Army, an international movement, is an evangelical part of the universal Christian Church. Its message is based on the Bible. Its ministry is motivated by the love of God. Its mission is to preach the gospel of Jesus Christ and to meet human needs in His name without discrimination.
773-476-8718, 1-800-728-7825
3055 W 63rd St, Chicago, IL 60629
http://salvationarmyusa.org/
Google Maps Directions
The Salvation Army - Arlington Heights, IL
Family Store & Donation Center - About The Salvation Army: "Doing The Most Good." In these four words, our mission - to feed, to clothe, to comfort, to care. To rebuild broken homes and broken lives. By walking with the addicted, we can lead them to recovery. In fighting hunger and poverty, we can feed and nurture the spirit. And, in living and sharing the Christian Gospel by meeting tangible needs, we give the world a lasting display of the love behind our beliefs. The Salvation Army operates 7,546 centers in communities across the United States. These include food distribution, disaster relief, rehabilitation centers, anti-human trafficking efforts, and a wealth of children's programs. Our work is funded through kettle donations, corporate contributions, and the sale of goods donated to our Salvation Army Family Stores. Eighty-two cents of every dollar we spend supports our various missions across the country. We are a tax-exempt 501(c)(3) organization, and contributions are deductible for Federal Income Tax Purposes to the extent permitted under Section 170(b)(2) for corporations. Our mission: The Salvation Army, an international movement, is an evangelical part of the universal Christian Church. Its message is based on the Bible. Its ministry is motivated by the love of God. Its mission is to preach the gospel of Jesus Christ and to meet human needs in His name without discrimination.
847-632-0705, 1-800-728-7825
1035 E. Rand Rd, Arlington Heights, IL 60004
http://salvationarmyusa.org/
Google Maps Directions
The Salvation Army - Ashland Ave, Chicago, IL
Family Store & Donation Center - About The Salvation Army: "Doing The Most Good." In these four words, our mission - to feed, to clothe, to comfort, to care. To rebuild broken homes and broken lives. By walking with the addicted, we can lead them to recovery. In fighting hunger and poverty, we can feed and nurture the spirit. And, in living and sharing the Christian Gospel by meeting tangible needs, we give the world a lasting display of the love behind our beliefs. The Salvation Army operates 7,546 centers in communities across the United States. These include food distribution, disaster relief, rehabilitation centers, anti-human trafficking efforts, and a wealth of children's programs. Our work is funded through kettle donations, corporate contributions, and the sale of goods donated to our Salvation Army Family Stores. Eighty-two cents of every dollar we spend supports our various missions across the country. We are a tax-exempt 501(c)(3) organization, and contributions are deductible for Federal Income Tax Purposes to the extent permitted under Section 170(b)(2) for corporations. Our mission: The Salvation Army, an international movement, is an evangelical part of the universal Christian Church. Its message is based on the Bible. Its ministry is motivated by the love of God. Its mission is to preach the gospel of Jesus Christ and to meet human needs in His name without discrimination.
773-737-3335, 1-800-728-7825
5112 S Ashland Ave, Chicago, IL 60609
http://salvationarmyusa.org/
Google Maps Directions
The Salvation Army - Bridgeview, IL
Family Store & Donation Center - About The Salvation Army: "Doing The Most Good." In these four words, our mission - to feed, to clothe, to comfort, to care. To rebuild broken homes and broken lives. By walking with the addicted, we can lead them to recovery. In fighting hunger and poverty, we can feed and nurture the spirit. And, in living and sharing the Christian Gospel by meeting tangible needs, we give the world a lasting display of the love behind our beliefs. The Salvation Army operates 7,546 centers in communities across the United States. These include food distribution, disaster relief, rehabilitation centers, anti-human trafficking efforts, and a wealth of children's programs. Our work is funded through kettle donations, corporate contributions, and the sale of goods donated to our Salvation Army Family Stores. Eighty-two cents of every dollar we spend supports our various missions across the country. We are a tax-exempt 501(c)(3) organization, and contributions are deductible for Federal Income Tax Purposes to the extent permitted under Section 170(b)(2) for corporations. Our mission: The Salvation Army, an international movement, is an evangelical part of the universal Christian Church. Its message is based on the Bible. Its ministry is motivated by the love of God. Its mission is to preach the gospel of Jesus Christ and to meet human needs in His name without discrimination.
708-598-2376, 1-800-728-7825
9000 S. Harlem Ave, Bridgeview, IL 60455
http://salvationarmyusa.org/
Google Maps Directions
The Salvation Army - Broadway Ave, Chicago, IL
Family Store & Donation Center - About The Salvation Army: "Doing The Most Good." In these four words, our mission - to feed, to clothe, to comfort, to care. To rebuild broken homes and broken lives. By walking with the addicted, we can lead them to recovery. In fighting hunger and poverty, we can feed and nurture the spirit. And, in living and sharing the Christian Gospel by meeting tangible needs, we give the world a lasting display of the love behind our beliefs. The Salvation Army operates 7,546 centers in communities across the United States. These include food distribution, disaster relief, rehabilitation centers, anti-human trafficking efforts, and a wealth of children's programs. Our work is funded through kettle donations, corporate contributions, and the sale of goods donated to our Salvation Army Family Stores. Eighty-two cents of every dollar we spend supports our various missions across the country. We are a tax-exempt 501(c)(3) organization, and contributions are deductible for Federal Income Tax Purposes to the extent permitted under Section 170(b)(2) for corporations. Our mission: The Salvation Army, an international movement, is an evangelical part of the universal Christian Church. Its message is based on the Bible. Its ministry is motivated by the love of God. Its mission is to preach the gospel of Jesus Christ and to meet human needs in His name without discrimination.
1-800-728-7825
4315 N Broadway Ave., Chicago, IL 60613
http://salvationarmyusa.org/
Google Maps Directions
The Salvation Army - Central Ave, Chicago, IL
Family Store & Donation Center - About The Salvation Army: "Doing The Most Good." In these four words, our mission - to feed, to clothe, to comfort, to care. To rebuild broken homes and broken lives. By walking with the addicted, we can lead them to recovery. In fighting hunger and poverty, we can feed and nurture the spirit. And, in living and sharing the Christian Gospel by meeting tangible needs, we give the world a lasting display of the love behind our beliefs. The Salvation Army operates 7,546 centers in communities across the United States. These include food distribution, disaster relief, rehabilitation centers, anti-human trafficking efforts, and a wealth of children's programs. Our work is funded through kettle donations, corporate contributions, and the sale of goods donated to our Salvation Army Family Stores. Eighty-two cents of every dollar we spend supports our various missions across the country. We are a tax-exempt 501(c)(3) organization, and contributions are deductible for Federal Income Tax Purposes to the extent permitted under Section 170(b)(2) for corporations. Our mission: The Salvation Army, an international movement, is an evangelical part of the universal Christian Church. Its message is based on the Bible. Its ministry is motivated by the love of God. Its mission is to preach the gospel of Jesus Christ and to meet human needs in His name without discrimination.
1-800-728-7825
2941 N Central Ave, Chicago, IL 60634
http://salvationarmyusa.org/
Google Maps Directions
The Salvation Army - Chicago Ave., Chicago, IL
Family Store & Donation Center - About The Salvation Army: "Doing The Most Good." In these four words, our mission - to feed, to clothe, to comfort, to care. To rebuild broken homes and broken lives. By walking with the addicted, we can lead them to recovery. In fighting hunger and poverty, we can feed and nurture the spirit. And, in living and sharing the Christian Gospel by meeting tangible needs, we give the world a lasting display of the love behind our beliefs. The Salvation Army operates 7,546 centers in communities across the United States. These include food distribution, disaster relief, rehabilitation centers, anti-human trafficking efforts, and a wealth of children's programs. Our work is funded through kettle donations, corporate contributions, and the sale of goods donated to our Salvation Army Family Stores. Eighty-two cents of every dollar we spend supports our various missions across the country. We are a tax-exempt 501(c)(3) organization, and contributions are deductible for Federal Income Tax Purposes to the extent permitted under Section 170(b)(2) for corporations. Our mission: The Salvation Army, an international movement, is an evangelical part of the universal Christian Church. Its message is based on the Bible. Its ministry is motivated by the love of God. Its mission is to preach the gospel of Jesus Christ and to meet human needs in His name without discrimination.
773-287-9774, 1-800-728-7825
5713 W Chicago, IL Ave., Chicago, IL 60651
http://salvationarmyusa.org/
Google Maps Directions
The Salvation Army - Clybourn Ave, Chicago IL
Family Store & Donation Center - About The Salvation Army: "Doing The Most Good." In these four words, our mission - to feed, to clothe, to comfort, to care. To rebuild broken homes and broken lives. By walking with the addicted, we can lead them to recovery. In fighting hunger and poverty, we can feed and nurture the spirit. And, in living and sharing the Christian Gospel by meeting tangible needs, we give the world a lasting display of the love behind our beliefs. The Salvation Army operates 7,546 centers in communities across the United States. These include food distribution, disaster relief, rehabilitation centers, anti-human trafficking efforts, and a wealth of children's programs. Our work is funded through kettle donations, corporate contributions, and the sale of goods donated to our Salvation Army Family Stores. Eighty-two cents of every dollar we spend supports our various missions across the country. We are a tax-exempt 501(c)(3) organization, and contributions are deductible for Federal Income Tax Purposes to the extent permitted under Section 170(b)(2) for corporations. Our mission: The Salvation Army, an international movement, is an evangelical part of the universal Christian Church. Its message is based on the Bible. Its ministry is motivated by the love of God. Its mission is to preach the gospel of Jesus Christ and to meet human needs in His name without discrimination.
1-800-728-7825
2270 N Clybourn, Chicago, IL 60614
http://salvationarmyusa.org/
Google Maps Directions
The Salvation Army - Darien, IL
Family Store & Donation Center - About The Salvation Army: "Doing The Most Good." In these four words, our mission - to feed, to clothe, to comfort, to care. To rebuild broken homes and broken lives. By walking with the addicted, we can lead them to recovery. In fighting hunger and poverty, we can feed and nurture the spirit. And, in living and sharing the Christian Gospel by meeting tangible needs, we give the world a lasting display of the love behind our beliefs. The Salvation Army operates 7,546 centers in communities across the United States. These include food distribution, disaster relief, rehabilitation centers, anti-human trafficking efforts, and a wealth of children's programs. Our work is funded through kettle donations, corporate contributions, and the sale of goods donated to our Salvation Army Family Stores. Eighty-two cents of every dollar we spend supports our various missions across the country. We are a tax-exempt 501(c)(3) organization, and contributions are deductible for Federal Income Tax Purposes to the extent permitted under Section 170(b)(2) for corporations. Our mission: The Salvation Army, an international movement, is an evangelical part of the universal Christian Church. Its message is based on the Bible. Its ministry is motivated by the love of God. Its mission is to preach the gospel of Jesus Christ and to meet human needs in His name without discrimination.
630-427-1404, 1-800-728-7825
7511 Lemont Road, Suite 180, Darien, IL 60561
http://salvationarmyusa.org/
Google Maps Directions
The Salvation Army - Devon Ave, Chicago, IL
Family Store & Donation Center - About The Salvation Army: "Doing The Most Good." In these four words, our mission - to feed, to clothe, to comfort, to care. To rebuild broken homes and broken lives. By walking with the addicted, we can lead them to recovery. In fighting hunger and poverty, we can feed and nurture the spirit. And, in living and sharing the Christian Gospel by meeting tangible needs, we give the world a lasting display of the love behind our beliefs. The Salvation Army operates 7,546 centers in communities across the United States. These include food distribution, disaster relief, rehabilitation centers, anti-human trafficking efforts, and a wealth of children's programs. Our work is funded through kettle donations, corporate contributions, and the sale of goods donated to our Salvation Army Family Stores. Eighty-two cents of every dollar we spend supports our various missions across the country. We are a tax-exempt 501(c)(3) organization, and contributions are deductible for Federal Income Tax Purposes to the extent permitted under Section 170(b)(2) for corporations. Our mission: The Salvation Army, an international movement, is an evangelical part of the universal Christian Church. Its message is based on the Bible. Its ministry is motivated by the love of God. Its mission is to preach the gospel of Jesus Christ and to meet human needs in His name without discrimination.
1-800-728-7825
2151 W Devon, Chicago, IL 60659
http://salvationarmyusa.org/
Google Maps Directions
The Salvation Army - Downers Grove, IL
Family Store & Donation Center - About The Salvation Army: "Doing The Most Good." In these four words, our mission - to feed, to clothe, to comfort, to care. To rebuild broken homes and broken lives. By walking with the addicted, we can lead them to recovery. In fighting hunger and poverty, we can feed and nurture the spirit. And, in living and sharing the Christian Gospel by meeting tangible needs, we give the world a lasting display of the love behind our beliefs. The Salvation Army operates 7,546 centers in communities across the United States. These include food distribution, disaster relief, rehabilitation centers, anti-human trafficking efforts, and a wealth of children's programs. Our work is funded through kettle donations, corporate contributions, and the sale of goods donated to our Salvation Army Family Stores. Eighty-two cents of every dollar we spend supports our various missions across the country. We are a tax-exempt 501(c)(3) organization, and contributions are deductible for Federal Income Tax Purposes to the extent permitted under Section 170(b)(2) for corporations. Our mission: The Salvation Army, an international movement, is an evangelical part of the universal Christian Church. Its message is based on the Bible. Its ministry is motivated by the love of God. Its mission is to preach the gospel of Jesus Christ and to meet human needs in His name without discrimination.
630-968-2270, 1-800-728-7825
1520 75th Street, Downers Grove, IL 60516
http://salvationarmyusa.org/
Google Maps Directions
The Salvation Army - Glendale Heights, IL
Family Store & Donation Center - About The Salvation Army: "Doing The Most Good." In these four words, our mission - to feed, to clothe, to comfort, to care. To rebuild broken homes and broken lives. By walking with the addicted, we can lead them to recovery. In fighting hunger and poverty, we can feed and nurture the spirit. And, in living and sharing the Christian Gospel by meeting tangible needs, we give the world a lasting display of the love behind our beliefs. The Salvation Army operates 7,546 centers in communities across the United States. These include food distribution, disaster relief, rehabilitation centers, anti-human trafficking efforts, and a wealth of children's programs. Our work is funded through kettle donations, corporate contributions, and the sale of goods donated to our Salvation Army Family Stores. Eighty-two cents of every dollar we spend supports our various missions across the country. We are a tax-exempt 501(c)(3) organization, and contributions are deductible for Federal Income Tax Purposes to the extent permitted under Section 170(b)(2) for corporations. Our mission: The Salvation Army, an international movement, is an evangelical part of the universal Christian Church. Its message is based on the Bible. Its ministry is motivated by the love of God. Its mission is to preach the gospel of Jesus Christ and to meet human needs in His name without discrimination.
630-752-0654, 1-800-728-7825
91 E North Avenue, Glendale Heights, IL 60139
http://salvationarmyusa.org/
Google Maps Directions
The Salvation Army - Montrose Ave, Chicago, IL
Family Store & Donation Center - About The Salvation Army: "Doing The Most Good." In these four words, our mission - to feed, to clothe, to comfort, to care. To rebuild broken homes and broken lives. By walking with the addicted, we can lead them to recovery. In fighting hunger and poverty, we can feed and nurture the spirit. And, in living and sharing the Christian Gospel by meeting tangible needs, we give the world a lasting display of the love behind our beliefs. The Salvation Army operates 7,546 centers in communities across the United States. These include food distribution, disaster relief, rehabilitation centers, anti-human trafficking efforts, and a wealth of children's programs. Our work is funded through kettle donations, corporate contributions, and the sale of goods donated to our Salvation Army Family Stores. Eighty-two cents of every dollar we spend supports our various missions across the country. We are a tax-exempt 501(c)(3) organization, and contributions are deductible for Federal Income Tax Purposes to the extent permitted under Section 170(b)(2) for corporations. Our mission: The Salvation Army, an international movement, is an evangelical part of the universal Christian Church. Its message is based on the Bible. Its ministry is motivated by the love of God. Its mission is to preach the gospel of Jesus Christ and to meet human needs in His name without discrimination.
1-800-728-7825
3301 W Montrose Ave., Chicago, IL 60618
http://salvationarmyusa.org/
Google Maps Directions
The Salvation Army - Morton Grove, IL
Family Store & Donation Center - About The Salvation Army: "Doing The Most Good." In these four words, our mission - to feed, to clothe, to comfort, to care. To rebuild broken homes and broken lives. By walking with the addicted, we can lead them to recovery. In fighting hunger and poverty, we can feed and nurture the spirit. And, in living and sharing the Christian Gospel by meeting tangible needs, we give the world a lasting display of the love behind our beliefs. The Salvation Army operates 7,546 centers in communities across the United States. These include food distribution, disaster relief, rehabilitation centers, anti-human trafficking efforts, and a wealth of children's programs. Our work is funded through kettle donations, corporate contributions, and the sale of goods donated to our Salvation Army Family Stores. Eighty-two cents of every dollar we spend supports our various missions across the country. We are a tax-exempt 501(c)(3) organization, and contributions are deductible for Federal Income Tax Purposes to the extent permitted under Section 170(b)(2) for corporations. Our mission: The Salvation Army, an international movement, is an evangelical part of the universal Christian Church. Its message is based on the Bible. Its ministry is motivated by the love of God. Its mission is to preach the gospel of Jesus Christ and to meet human needs in His name without discrimination.
773-798-3025, 1-800-728-7825
6715 W. Dempster St, Morton Grove, IL 60053
http://salvationarmyusa.org/
Google Maps Directions
The Salvation Army - N Union St., Chicago, IL
Family Store & Donation Center - About The Salvation Army: "Doing The Most Good." In these four words, our mission - to feed, to clothe, to comfort, to care. To rebuild broken homes and broken lives. By walking with the addicted, we can lead them to recovery. In fighting hunger and poverty, we can feed and nurture the spirit. And, in living and sharing the Christian Gospel by meeting tangible needs, we give the world a lasting display of the love behind our beliefs. The Salvation Army operates 7,546 centers in communities across the United States. These include food distribution, disaster relief, rehabilitation centers, anti-human trafficking efforts, and a wealth of children's programs. Our work is funded through kettle donations, corporate contributions, and the sale of goods donated to our Salvation Army Family Stores. Eighty-two cents of every dollar we spend supports our various missions across the country. We are a tax-exempt 501(c)(3) organization, and contributions are deductible for Federal Income Tax Purposes to the extent permitted under Section 170(b)(2) for corporations. Our mission: The Salvation Army, an international movement, is an evangelical part of the universal Christian Church. Its message is based on the Bible. Its ministry is motivated by the love of God. Its mission is to preach the gospel of Jesus Christ and to meet human needs in His name without discrimination.
312-564-8561, 1-800-728-7825
509 N Union Ave, Chicago, IL 60654
http://salvationarmyusa.org/
Google Maps Directions
The Salvation Army - Nagle Ave, Chicago, IL
Family Store & Donation Center - About The Salvation Army: "Doing The Most Good." In these four words, our mission - to feed, to clothe, to comfort, to care. To rebuild broken homes and broken lives. By walking with the addicted, we can lead them to recovery. In fighting hunger and poverty, we can feed and nurture the spirit. And, in living and sharing the Christian Gospel by meeting tangible needs, we give the world a lasting display of the love behind our beliefs. The Salvation Army operates 7,546 centers in communities across the United States. These include food distribution, disaster relief, rehabilitation centers, anti-human trafficking efforts, and a wealth of children's programs. Our work is funded through kettle donations, corporate contributions, and the sale of goods donated to our Salvation Army Family Stores. Eighty-two cents of every dollar we spend supports our various missions across the country. We are a tax-exempt 501(c)(3) organization, and contributions are deductible for Federal Income Tax Purposes to the extent permitted under Section 170(b)(2) for corporations. Our mission: The Salvation Army, an international movement, is an evangelical part of the universal Christian Church. Its message is based on the Bible. Its ministry is motivated by the love of God. Its mission is to preach the gospel of Jesus Christ and to meet human needs in His name without discrimination.
773-586-0178, 1-800-728-7825
6434 W. 63rd St, Chicago, IL 60638
http://salvationarmyusa.org/
Google Maps Directions
The Salvation Army - Oak Lawn, IL
Family Store & Donation Center - About The Salvation Army: "Doing The Most Good." In these four words, our mission - to feed, to clothe, to comfort, to care. To rebuild broken homes and broken lives. By walking with the addicted, we can lead them to recovery. In fighting hunger and poverty, we can feed and nurture the spirit. And, in living and sharing the Christian Gospel by meeting tangible needs, we give the world a lasting display of the love behind our beliefs. The Salvation Army operates 7,546 centers in communities across the United States. These include food distribution, disaster relief, rehabilitation centers, anti-human trafficking efforts, and a wealth of children's programs. Our work is funded through kettle donations, corporate contributions, and the sale of goods donated to our Salvation Army Family Stores. Eighty-two cents of every dollar we spend supports our various missions across the country. We are a tax-exempt 501(c)(3) organization, and contributions are deductible for Federal Income Tax Purposes to the extent permitted under Section 170(b)(2) for corporations. Our mission: The Salvation Army, an international movement, is an evangelical part of the universal Christian Church. Its message is based on the Bible. Its ministry is motivated by the love of God. Its mission is to preach the gospel of Jesus Christ and to meet human needs in His name without discrimination.
708-425-6064, 1-800-728-7825
8732 S. Cicero Ave, Oak Lawn, IL 60453
http://salvationarmyusa.org/
Google Maps Directions
The Salvation Army - Oak Park, IL
Family Store & Donation Center - About The Salvation Army: "Doing The Most Good." In these four words, our mission - to feed, to clothe, to comfort, to care. To rebuild broken homes and broken lives. By walking with the addicted, we can lead them to recovery. In fighting hunger and poverty, we can feed and nurture the spirit. And, in living and sharing the Christian Gospel by meeting tangible needs, we give the world a lasting display of the love behind our beliefs. The Salvation Army operates 7,546 centers in communities across the United States. These include food distribution, disaster relief, rehabilitation centers, anti-human trafficking efforts, and a wealth of children's programs. Our work is funded through kettle donations, corporate contributions, and the sale of goods donated to our Salvation Army Family Stores. Eighty-two cents of every dollar we spend supports our various missions across the country. We are a tax-exempt 501(c)(3) organization, and contributions are deductible for Federal Income Tax Purposes to the extent permitted under Section 170(b)(2) for corporations. Our mission: The Salvation Army, an international movement, is an evangelical part of the universal Christian Church. Its message is based on the Bible. Its ministry is motivated by the love of God. Its mission is to preach the gospel of Jesus Christ and to meet human needs in His name without discrimination.
708-848-1181, 1-800-728-7825
6536 W Roosevelt Rd., Oak Park, IL 60304
http://salvationarmyusa.org/
Google Maps Directions
The Salvation Army - Roselle, IL
Family Store & Donation Center - About The Salvation Army: "Doing The Most Good." In these four words, our mission - to feed, to clothe, to comfort, to care. To rebuild broken homes and broken lives. By walking with the addicted, we can lead them to recovery. In fighting hunger and poverty, we can feed and nurture the spirit. And, in living and sharing the Christian Gospel by meeting tangible needs, we give the world a lasting display of the love behind our beliefs. The Salvation Army operates 7,546 centers in communities across the United States. These include food distribution, disaster relief, rehabilitation centers, anti-human trafficking efforts, and a wealth of children's programs. Our work is funded through kettle donations, corporate contributions, and the sale of goods donated to our Salvation Army Family Stores. Eighty-two cents of every dollar we spend supports our various missions across the country. We are a tax-exempt 501(c)(3) organization, and contributions are deductible for Federal Income Tax Purposes to the extent permitted under Section 170(b)(2) for corporations. Our mission: The Salvation Army, an international movement, is an evangelical part of the universal Christian Church. Its message is based on the Bible. Its ministry is motivated by the love of God. Its mission is to preach the gospel of Jesus Christ and to meet human needs in His name without discrimination.
630-539-2624, 1-800-728-7825
825 E. Nerge Road, Roselle, IL 60172
http://salvationarmyusa.org/
Google Maps Directions
The Salvation Army - Skokie, IL
Family Store & Donation Center - About The Salvation Army: "Doing The Most Good." In these four words, our mission - to feed, to clothe, to comfort, to care. To rebuild broken homes and broken lives. By walking with the addicted, we can lead them to recovery. In fighting hunger and poverty, we can feed and nurture the spirit. And, in living and sharing the Christian Gospel by meeting tangible needs, we give the world a lasting display of the love behind our beliefs. The Salvation Army operates 7,546 centers in communities across the United States. These include food distribution, disaster relief, rehabilitation centers, anti-human trafficking efforts, and a wealth of children's programs. Our work is funded through kettle donations, corporate contributions, and the sale of goods donated to our Salvation Army Family Stores. Eighty-two cents of every dollar we spend supports our various missions across the country. We are a tax-exempt 501(c)(3) organization, and contributions are deductible for Federal Income Tax Purposes to the extent permitted under Section 170(b)(2) for corporations. Our mission: The Salvation Army, an international movement, is an evangelical part of the universal Christian Church. Its message is based on the Bible. Its ministry is motivated by the love of God. Its mission is to preach the gospel of Jesus Christ and to meet human needs in His name without discrimination.
1-800-728-7825
4335 Oakton Street, Skokie 60076
http://salvationarmyusa.org/
Google Maps Directions
The Salvation Army - South Holland, IL
Family Store & Donation Center - About The Salvation Army: "Doing The Most Good." In these four words, our mission - to feed, to clothe, to comfort, to care. To rebuild broken homes and broken lives. By walking with the addicted, we can lead them to recovery. In fighting hunger and poverty, we can feed and nurture the spirit. And, in living and sharing the Christian Gospel by meeting tangible needs, we give the world a lasting display of the love behind our beliefs. The Salvation Army operates 7,546 centers in communities across the United States. These include food distribution, disaster relief, rehabilitation centers, anti-human trafficking efforts, and a wealth of children's programs. Our work is funded through kettle donations, corporate contributions, and the sale of goods donated to our Salvation Army Family Stores. Eighty-two cents of every dollar we spend supports our various missions across the country. We are a tax-exempt 501(c)(3) organization, and contributions are deductible for Federal Income Tax Purposes to the extent permitted under Section 170(b)(2) for corporations. Our mission: The Salvation Army, an international movement, is an evangelical part of the universal Christian Church. Its message is based on the Bible. Its ministry is motivated by the love of God. Its mission is to preach the gospel of Jesus Christ and to meet human needs in His name without discrimination.
1-800-728-7825
800 E 162nd St, South Holland, IL 60473
http://salvationarmyusa.org/
Google Maps Directions
The Salvation Army - West Humboldt Park, Chicago, IL
Family Store & Donation Center - About The Salvation Army: "Doing The Most Good." In these four words, our mission - to feed, to clothe, to comfort, to care. To rebuild broken homes and broken lives. By walking with the addicted, we can lead them to recovery. In fighting hunger and poverty, we can feed and nurture the spirit. And, in living and sharing the Christian Gospel by meeting tangible needs, we give the world a lasting display of the love behind our beliefs. The Salvation Army operates 7,546 centers in communities across the United States. These include food distribution, disaster relief, rehabilitation centers, anti-human trafficking efforts, and a wealth of children's programs. Our work is funded through kettle donations, corporate contributions, and the sale of goods donated to our Salvation Army Family Stores. Eighty-two cents of every dollar we spend supports our various missions across the country. We are a tax-exempt 501(c)(3) organization, and contributions are deductible for Federal Income Tax Purposes to the extent permitted under Section 170(b)(2) for corporations. Our mission: The Salvation Army, an international movement, is an evangelical part of the universal Christian Church. Its message is based on the Bible. Its ministry is motivated by the love of God. Its mission is to preach the gospel of Jesus Christ and to meet human needs in His name without discrimination.
1-800-728-7825
4052 W Grand Ave, Chicago, IL 60651
http://salvationarmyusa.org/
Google Maps Directions
Thresholds
Homeless Families Program - HOME. HEALTH. HOPE. Thresholds is fighting to transform the lives of people struggling with mental illness. We break cycles of poverty and unemployment. We are path breaking in our innovative research and advocacy. We also make opportunities. Opportunities for housing, employment, and recovery. Opportunities for families to reconnect. Above all we make hope possible.
773-572-5500
1110 W. Belmont, Chicago, IL 60657
http://www.thresholds.org/
Google Maps Directions
Unique / Savers Thrift Store - Arlington Heights
About Savers / Unique Thrift Shops: The Savers family of stores is a for-profit, global thrift retailer offering great quality, gently used clothing, accessories and household goods. Our business model of purchasing, reselling and recycling gives communities a smart way to shop and keeps more than 650 million pounds of used goods from landfills each year. We also help more than 120 nonprofit organizations by paying them for donated goods, which supports their vital community programs and services. Our brands comprise Savers (in the U.S), Value Village (in the U.S. and Canada), Unique (in the U.S.), Village des Valeurs (in Quebec) and Savers Australia. All in all, we operate over 330 locations and have 22,000 employees.
847-398-5250
780 W Dundee Rd, Arlington Heights, IL 60004
https://www.savers.com/
Google Maps Directions
Unique / Savers Thrift Store - Bricktown
About Savers / Unique Thrift Shops: The Savers family of stores is a for-profit, global thrift retailer offering great quality, gently used clothing, accessories and household goods. Our business model of purchasing, reselling and recycling gives communities a smart way to shop and keeps more than 650 million pounds of used goods from landfills each year. We also help more than 120 nonprofit organizations by paying them for donated goods, which supports their vital community programs and services. Our brands comprise Savers (in the U.S), Value Village (in the U.S. and Canada), Unique (in the U.S.), Village des Valeurs (in Quebec) and Savers Australia. All in all, we operate over 330 locations and have 22,000 employees.
773-622-6654
6560 W. Fullerton Avenue, Chicago, IL 60707
https://www.savers.com/
Google Maps Directions
Unique / Savers Thrift Store - Canterbury
About Savers / Unique Thrift Shops: The Savers family of stores is a for-profit, global thrift retailer offering great quality, gently used clothing, accessories and household goods. Our business model of purchasing, reselling and recycling gives communities a smart way to shop and keeps more than 650 million pounds of used goods from landfills each year. We also help more than 120 nonprofit organizations by paying them for donated goods, which supports their vital community programs and services. Our brands comprise Savers (in the U.S), Value Village (in the U.S. and Canada), Unique (in the U.S.), Village des Valeurs (in Quebec) and Savers Australia. All in all, we operate over 330 locations and have 22,000 employees.
708-331-3450
3041 W. 159Th Street, Markham, IL 60428
https://www.savers.com/
Google Maps Directions
Unique / Savers Thrift Store - Carol Stream
About Savers / Unique Thrift Shops: The Savers family of stores is a for-profit, global thrift retailer offering great quality, gently used clothing, accessories and household goods. Our business model of purchasing, reselling and recycling gives communities a smart way to shop and keeps more than 650 million pounds of used goods from landfills each year. We also help more than 120 nonprofit organizations by paying them for donated goods, which supports their vital community programs and services. Our brands comprise Savers (in the U.S), Value Village (in the U.S. and Canada), Unique (in the U.S.), Village des Valeurs (in Quebec) and Savers Australia. All in all, we operate over 330 locations and have 22,000 employees.
630-588-3090
1231 N Gary Ave., Carol Stream, IL 60188
https://www.savers.com/
Google Maps Directions
Unique / Savers Thrift Store - Crystal Lake
About Savers / Unique Thrift Shops: The Savers family of stores is a for-profit, global thrift retailer offering great quality, gently used clothing, accessories and household goods. Our business model of purchasing, reselling and recycling gives communities a smart way to shop and keeps more than 650 million pounds of used goods from landfills each year. We also help more than 120 nonprofit organizations by paying them for donated goods, which supports their vital community programs and services. Our brands comprise Savers (in the U.S), Value Village (in the U.S. and Canada), Unique (in the U.S.), Village des Valeurs (in Quebec) and Savers Australia. All in all, we operate over 330 locations and have 22,000 employees.
815-444-0276
230 W Virginia St, Suite 50, Crystal Lake, IL 60014
https://www.savers.com/
Google Maps Directions
Unique / Savers Thrift Store - Downers Grove
About Savers / Unique Thrift Shops: The Savers family of stores is a for-profit, global thrift retailer offering great quality, gently used clothing, accessories and household goods. Our business model of purchasing, reselling and recycling gives communities a smart way to shop and keeps more than 650 million pounds of used goods from landfills each year. We also help more than 120 nonprofit organizations by paying them for donated goods, which supports their vital community programs and services. Our brands comprise Savers (in the U.S), Value Village (in the U.S. and Canada), Unique (in the U.S.), Village des Valeurs (in Quebec) and Savers Australia. All in all, we operate over 330 locations and have 22,000 employees.
630-968-2795
2900 Highland Avenue, Downers Grove, IL 60515
https://www.savers.com/
Google Maps Directions
Unique / Savers Thrift Store - Elston
About Savers / Unique Thrift Shops: The Savers family of stores is a for-profit, global thrift retailer offering great quality, gently used clothing, accessories and household goods. Our business model of purchasing, reselling and recycling gives communities a smart way to shop and keeps more than 650 million pounds of used goods from landfills each year. We also help more than 120 nonprofit organizations by paying them for donated goods, which supports their vital community programs and services. Our brands comprise Savers (in the U.S), Value Village (in the U.S. and Canada), Unique (in the U.S.), Village des Valeurs (in Quebec) and Savers Australia. All in all, we operate over 330 locations and have 22,000 employees.
773-279-0850
3748 N Elston Ave, Chicago, IL 60618
https://www.savers.com/
Google Maps Directions
Unique / Savers Thrift Store - Franklin Park
About Savers / Unique Thrift Shops: The Savers family of stores is a for-profit, global thrift retailer offering great quality, gently used clothing, accessories and household goods. Our business model of purchasing, reselling and recycling gives communities a smart way to shop and keeps more than 650 million pounds of used goods from landfills each year. We also help more than 120 nonprofit organizations by paying them for donated goods, which supports their vital community programs and services. Our brands comprise Savers (in the U.S), Value Village (in the U.S. and Canada), Unique (in the U.S.), Village des Valeurs (in Quebec) and Savers Australia. All in all, we operate over 330 locations and have 22,000 employees.
847-288-0034
10205 W Grand Ave, Suite 300, Franklin Park, IL 60131
https://www.savers.com/
Google Maps Directions
Unique / Savers Thrift Store - Glenview
About Savers / Unique Thrift Shops: The Savers family of stores is a for-profit, global thrift retailer offering great quality, gently used clothing, accessories and household goods. Our business model of purchasing, reselling and recycling gives communities a smart way to shop and keeps more than 650 million pounds of used goods from landfills each year. We also help more than 120 nonprofit organizations by paying them for donated goods, which supports their vital community programs and services. Our brands comprise Savers (in the U.S), Value Village (in the U.S. and Canada), Unique (in the U.S.), Village des Valeurs (in Quebec) and Savers Australia. All in all, we operate over 330 locations and have 22,000 employees.
847-635-6288
9840 N Milwaukee Ave, Glenview, IL 60025
https://www.savers.com/
Google Maps Directions
Unique / Savers Thrift Store - Halsted
About Savers / Unique Thrift Shops: The Savers family of stores is a for-profit, global thrift retailer offering great quality, gently used clothing, accessories and household goods. Our business model of purchasing, reselling and recycling gives communities a smart way to shop and keeps more than 650 million pounds of used goods from landfills each year. We also help more than 120 nonprofit organizations by paying them for donated goods, which supports their vital community programs and services. Our brands comprise Savers (in the U.S), Value Village (in the U.S. and Canada), Unique (in the U.S.), Village des Valeurs (in Quebec) and Savers Australia. All in all, we operate over 330 locations and have 22,000 employees.
312-842-0942
3000 S Halsted St, Chicago, IL 60608
https://www.savers.com/
Google Maps Directions
Unique / Savers Thrift Store - Hoffman Estates
About Savers / Unique Thrift Shops: The Savers family of stores is a for-profit, global thrift retailer offering great quality, gently used clothing, accessories and household goods. Our business model of purchasing, reselling and recycling gives communities a smart way to shop and keeps more than 650 million pounds of used goods from landfills each year. We also help more than 120 nonprofit organizations by paying them for donated goods, which supports their vital community programs and services. Our brands comprise Savers (in the U.S), Value Village (in the U.S. and Canada), Unique (in the U.S.), Village des Valeurs (in Quebec) and Savers Australia. All in all, we operate over 330 locations and have 22,000 employees.
847-310-0329
26 Golf Center, Hoffman Estates, IL 60195
https://www.savers.com/
Google Maps Directions
Unique / Savers Thrift Store - Howard
About Savers / Unique Thrift Shops: The Savers family of stores is a for-profit, global thrift retailer offering great quality, gently used clothing, accessories and household goods. Our business model of purchasing, reselling and recycling gives communities a smart way to shop and keeps more than 650 million pounds of used goods from landfills each year. We also help more than 120 nonprofit organizations by paying them for donated goods, which supports their vital community programs and services. Our brands comprise Savers (in the U.S), Value Village (in the U.S. and Canada), Unique (in the U.S.), Village des Valeurs (in Quebec) and Savers Australia. All in all, we operate over 330 locations and have 22,000 employees.
773-338-6898
7530 N Western Ave, Chicago, IL 60645
https://www.savers.com/
Google Maps Directions
Unique / Savers Thrift Store - Kedzie
About Savers / Unique Thrift Shops: The Savers family of stores is a for-profit, global thrift retailer offering great quality, gently used clothing, accessories and household goods. Our business model of purchasing, reselling and recycling gives communities a smart way to shop and keeps more than 650 million pounds of used goods from landfills each year. We also help more than 120 nonprofit organizations by paying them for donated goods, which supports their vital community programs and services. Our brands comprise Savers (in the U.S), Value Village (in the U.S. and Canada), Unique (in the U.S.), Village des Valeurs (in Quebec) and Savers Australia. All in all, we operate over 330 locations and have 22,000 employees.
773-434-4886
5040 S Kedzie Ave, Chicago, IL 60632
https://www.savers.com/
Google Maps Directions
Unique / Savers Thrift Store - Naperville
About Savers / Unique Thrift Shops: The Savers family of stores is a for-profit, global thrift retailer offering great quality, gently used clothing, accessories and household goods. Our business model of purchasing, reselling and recycling gives communities a smart way to shop and keeps more than 650 million pounds of used goods from landfills each year. We also help more than 120 nonprofit organizations by paying them for donated goods, which supports their vital community programs and services. Our brands comprise Savers (in the U.S), Value Village (in the U.S. and Canada), Unique (in the U.S.), Village des Valeurs (in Quebec) and Savers Australia. All in all, we operate over 330 locations and have 22,000 employees.
630-778-8967
204 South State Route 59, Naperville, IL 60540
https://www.savers.com/
Google Maps Directions
Unique / Savers Thrift Store - Orland Park
About Savers / Unique Thrift Shops: The Savers family of stores is a for-profit, global thrift retailer offering great quality, gently used clothing, accessories and household goods. Our business model of purchasing, reselling and recycling gives communities a smart way to shop and keeps more than 650 million pounds of used goods from landfills each year. We also help more than 120 nonprofit organizations by paying them for donated goods, which supports their vital community programs and services. Our brands comprise Savers (in the U.S), Value Village (in the U.S. and Canada), Unique (in the U.S.), Village des Valeurs (in Quebec) and Savers Australia. All in all, we operate over 330 locations and have 22,000 employees.
708-460-3655
15625 94th Avenue, Orland Park, IL 60462
https://www.savers.com/
Google Maps Directions
Village Discount Outlet - Store 1
Village Discount Outlet Is a Chicagoland thrift store that offers gently used vintage and retro style clothing and household goods for thrifty prices. With 13 locations spanning across Chicago, the surrounding suburbs, and Northwest Indiana, we are the place to go for gently used, stylish clothing and eclectic household items that won't break the bank!
708-388-4772
6419 S Kedzie Ave, Chicago, IL 60629
http://villagediscountoutlet.com/
Google Maps Directions
Village Discount Outlet - Store 10
Village Discount Outlet Is a Chicagoland thrift store that offers gently used vintage and retro style clothing and household goods for thrifty prices. With 13 locations spanning across Chicago, the surrounding suburbs, and Northwest Indiana, we are the place to go for gently used, stylish clothing and eclectic household items that won't break the bank!
708-388-4772
2043 W Roscoe St, Chicago, IL 60618
http://villagediscountoutlet.com/
Google Maps Directions
Village Discount Outlet - Store 11
Village Discount Outlet Is a Chicagoland thrift store that offers gently used vintage and retro style clothing and household goods for thrifty prices. With 13 locations spanning across Chicago, the surrounding suburbs, and Northwest Indiana, we are the place to go for gently used, stylish clothing and eclectic household items that won't break the bank!
708-388-4772
4898 N Clark St, Chicago, IL 60640
http://villagediscountoutlet.com/
Google Maps Directions
Village Discount Outlet - Store 12
Village Discount Outlet Is a Chicagoland thrift store that offers gently used vintage and retro style clothing and household goods for thrifty prices. With 13 locations spanning across Chicago, the surrounding suburbs, and Northwest Indiana, we are the place to go for gently used, stylish clothing and eclectic household items that won't break the bank!
708-388-4772
4635 N Elston Ave, Chicago, IL 60630
http://villagediscountoutlet.com/
Google Maps Directions
Village Discount Outlet - Store 13
Village Discount Outlet Is a Chicagoland thrift store that offers gently used vintage and retro style clothing and household goods for thrifty prices. With 13 locations spanning across Chicago, the surrounding suburbs, and Northwest Indiana, we are the place to go for gently used, stylish clothing and eclectic household items that won't break the bank!
708-388-4772
4027 N Kedzie Ave, Chicago, IL 60618
http://villagediscountoutlet.com/
Google Maps Directions
Village Discount Outlet - Store 14
Village Discount Outlet Is a Chicagoland thrift store that offers gently used vintage and retro style clothing and household goods for thrifty prices. With 13 locations spanning across Chicago, the surrounding suburbs, and Northwest Indiana, we are the place to go for gently used, stylish clothing and eclectic household items that won't break the bank!
708-388-4772
900 N Farnsworth Ave, Aurora, IL 60505
http://villagediscountoutlet.com/
Google Maps Directions
Village Discount Outlet - Store 2
Village Discount Outlet Is a Chicagoland thrift store that offers gently used vintage and retro style clothing and household goods for thrifty prices. With 13 locations spanning across Chicago, the surrounding suburbs, and Northwest Indiana, we are the place to go for gently used, stylish clothing and eclectic household items that won't break the bank!
708-388-4772
2515 Chicago Rd, Chicago Heights, IL 60411
http://villagediscountoutlet.com/
Google Maps Directions
Village Discount Outlet - Store 3
Village Discount Outlet Is a Chicagoland thrift store that offers gently used vintage and retro style clothing and household goods for thrifty prices. With 13 locations spanning across Chicago, the surrounding suburbs, and Northwest Indiana, we are the place to go for gently used, stylish clothing and eclectic household items that won't break the bank!
708-388-4772
2032 N Milwaukee Ave, Chicago, IL 60647
http://villagediscountoutlet.com/
Google Maps Directions
Village Discount Outlet - Store 5
Village Discount Outlet Is a Chicagoland thrift store that offers gently used vintage and retro style clothing and household goods for thrifty prices. With 13 locations spanning across Chicago, the surrounding suburbs, and Northwest Indiana, we are the place to go for gently used, stylish clothing and eclectic household items that won't break the bank!
708-388-4772
2514 W 47th St, Chicago, IL 60632
http://villagediscountoutlet.com/
Google Maps Directions
Village Discount Outlet - Store 6
Village Discount Outlet Is a Chicagoland thrift store that offers gently used vintage and retro style clothing and household goods for thrifty prices. With 13 locations spanning across Chicago, the surrounding suburbs, and Northwest Indiana, we are the place to go for gently used, stylish clothing and eclectic household items that won't break the bank!
708-388-4772
2706 165th St, Hammond, IN 46323
http://villagediscountoutlet.com/
Google Maps Directions
Village Discount Outlet - Store 7
Village Discount Outlet Is a Chicagoland thrift store that offers gently used vintage and retro style clothing and household goods for thrifty prices. With 13 locations spanning across Chicago, the surrounding suburbs, and Northwest Indiana, we are the place to go for gently used, stylish clothing and eclectic household items that won't break the bank!
708-388-4772
7443 S Racine Ave, Chicago, IL 60636
http://villagediscountoutlet.com/
Google Maps Directions
Village Discount Outlet - Store 8
Village Discount Outlet Is a Chicagoland thrift store that offers gently used vintage and retro style clothing and household goods for thrifty prices. With 13 locations spanning across Chicago, the surrounding suburbs, and Northwest Indiana, we are the place to go for gently used, stylish clothing and eclectic household items that won't break the bank!
708-388-4772
3301 W Lawrence Ave, Chicago, IL 60625
http://villagediscountoutlet.com/
Google Maps Directions
Village Discount Outlet - Store 9
Village Discount Outlet Is a Chicagoland thrift store that offers gently used vintage and retro style clothing and household goods for thrifty prices. With 13 locations spanning across Chicago, the surrounding suburbs, and Northwest Indiana, we are the place to go for gently used, stylish clothing and eclectic household items that won't break the bank!
708-388-4772
4020 W 26th St, Chicago, IL 60623
http://villagediscountoutlet.com/
Google Maps Directions
Vintage Underground
If you are looking for quality vintage jewelry this is the place to go. Vintage Underground is 3,500 square feet of vintage costume jewelry, hats, belts, handbags, clothing, and other unique finds. The owners not only have a great eye for detail and high level of taste, they are also very nice, helpful and knowledgeable. This shop is a great resource for brides-to-be looking for special occasion jewelry for that one very special occasion.
773-252-4559
1834 W North Ave, Chicago, IL 60622
https://www.facebook.com/vintageundergroundCHI
Google Maps Directions